AC Maintenance In Peoria, AZ
AC Maintenance In Peoria, AZ, And Surrounding Areas
Having a reliable and efficient air conditioning system is important when it comes to maintaining a comfortable and cool indoor environment in Arizona. The scorching temperatures during summer make a well-working AC system a necessity rather than a luxury. 1st Choice Mechanical is an experienced and trusted HVAC company specializing in top-quality AC maintenance services to keep your investment protected and your home comfortable throughout the year.
Our certified air conditioner technicians take a comprehensive approach to maintenance and offer everything from tune-ups and filter replacements to complete system inspections. We use the latest tools and technologies in the industry to ensure that your air conditioner is operating at peak efficiency for maximum energy savings. Schedule an appointment AC maintenance in Peoria, AZ, today.
Simply fill out the form below and a member of our team will respond to you as soon as possible.
Count on 1st Choice Mechanical for Comprehensive AC Maintenance
Your air conditioning system is a significant investment; regular maintenance is vital to protecting that investment. By opting for professional AC maintenance, you can recognize and address minor issues before they become major, costly repairs. At 1st Choice Mechanical, we offer comprehensive AC maintenance services that include:
Cleaning and inspecting air filters: Dirty or clogged air filters can hinder airflow and reduce the efficiency of your AC system. Our technicians will examine and replace the filters to ensure optimal performance.
Checking thermostat calibration: A properly calibrated thermostat ensures accurate temperature control and helps prevent energy waste. We'll make sure your thermostat is working correctly and calibrated accurately.
Inspecting electrical connections: Faulty electrical connections can pose a fire hazard and cause your air conditioning system to malfunction. Our technicians will thoroughly inspect all electrical connections to ensure they are secure and in good condition.
Checking refrigerant levels: Insufficient refrigerant can cause your AC to work harder and less efficiently. Our technicians will check refrigerant levels and recharge the system if necessary, ensuring optimal cooling performance.
Cleaning condenser coils: Over time, condenser coils can accumulate dirt and debris, hindering heat transfer and reducing the efficiency of your air conditioner system. We'll clean the condenser coils to maximize cooling efficiency.
By choosing 1st Choice Mechanical for your needs AC maintenance in Peoria, AZ, you can have peace of mind knowing that our technicians will thoroughly inspect and maintain your system, addressing any issues proactively.
Maximize Your AC's Efficiency and Lifespan with Our Skilled Technicians
Regular AC maintenance also maximizes the efficiency and lifespan of your air conditioning system. Our team of skilled technicians at 1st Choice Mechanical is highly trained and experienced in servicing various AC models and brands. With our expertise, they can identify potential problems, fine-tune your system, and optimize its performance.
By regularly maintaining your AC system, you can enjoy benefits such as the following:
Increased energy efficiency: A well-maintained AC system operates more efficiently, reducing energy consumption and lowering utility bills.
Enhanced indoor air quality: Regular cleaning and maintenance of filters and components help improve indoor air quality by removing dust, allergens, and pollutants.
Extended lifespan: Regular maintenance can make your air conditioner system run optimally by addressing minor issues early on and ensuring proper functioning, saving you money on premature replacements.
Consistent comfort: A well-maintained air conditioning system delivers consistent cooling throughout your home, keeping you comfortable during the year's hottest months.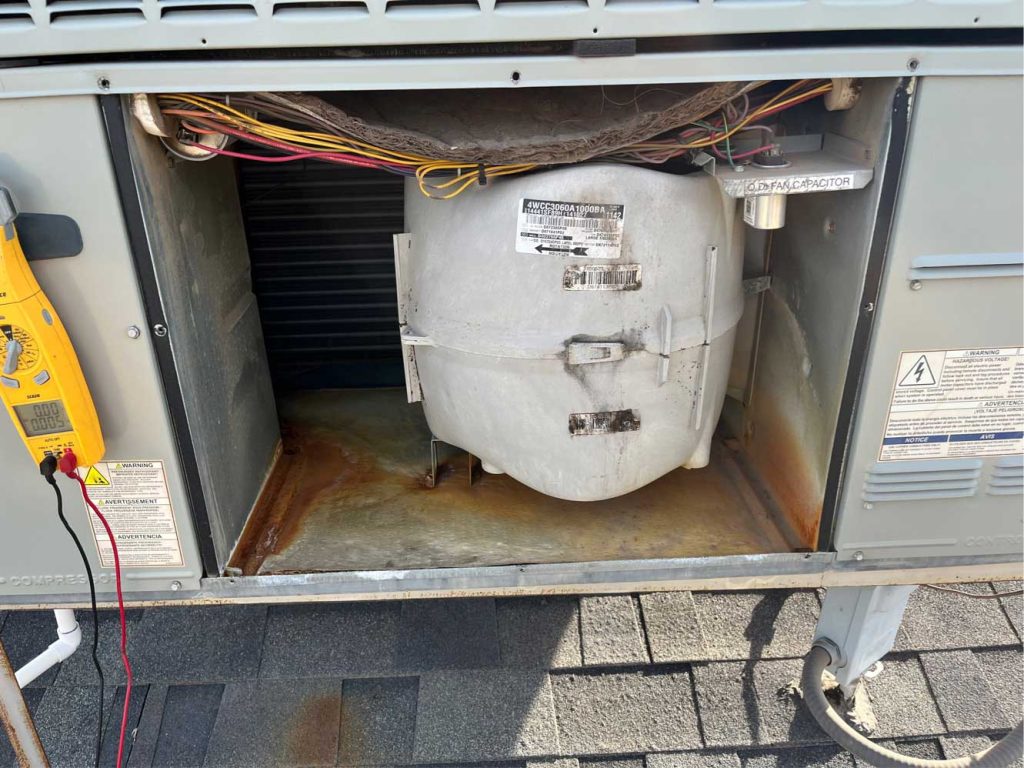 Keep Your Home Comfortable All Year Round With Affordable Maintenance
We understand that budget plays a significant role in your decision-making process. That's why we strive to make AC maintenance affordable for our valued customers. At 1st Choice Mechanical, we have partnered with Service Finance and JB Financing to provide flexible financing options. These partnerships allow you to access affordable payment plans for your maintenance services, ensuring you can keep your home comfortable without straining your budget. Everyone deserves a cool and comfortable living space, and our financing options make it possible for you to achieve that goal.
Book Your AC Maintenance Service Now and Enjoy Long-Term Savings
Don't wait until your AC system breaks down on a scorching summer day. Take proactive measures to maintain the efficiency and longevity of your air conditioning system. Book your AC maintenance service with 1st Choice Mechanical today and enjoy a well-maintained AC system's long-term savings and comfort.
To schedule your AC maintenance service or learn more about our services in Peoria, AZ, visit our website or call us. Our professional team is ready to assist you and ensure your home remains cool all summer.
Contact Us Today For AC Maintenance In Peoria, AZ, And Surrounding Areas