RESIDENTIAL HVAC El Mirage, AZ
El Mirage's great climate provides an ideal outdoor living environment. With its mild winters, cool summers, and dry spring and fall seasons, El Mirage is the perfect place to live. If you plan to buy or sell a home in El Mirage, you can count on 1st Choice Mechanical LLC for all your HVAC needs.
As a local company, we are familiar with our customer's needs. 
COur highly trained technicians deliver a wide range of services to keep El Mirage homes comfortable throughout the year, from HVAC repairs to maintenance and installation. We are licensed, bonded, and insured to handle your HVAC needs, and all our technicians are certified by the state of Arizona. We have served El Mirage and the surrounding areas for over 20 years and have a proven track record of providing quality workmanship and customer service.
1st Choice Mechanical LLC in El Mirage
1st Choice Mechanical LLC is a top choice for homeowners everywhere. When you call us, we perform an initial system assessment before any work begins to identify the root cause of the problem. Our services are competitively priced, so you won't need to break the bank to have your HVAC system fixed. 
Furthermore, we offer a 100% satisfaction guarantee on all work done by our technicians. Our services include:
Contact 1st Choice Mechanical LLC online or call (623) 323-1021 for free estimates on comprehensive residential HVAC services in El Mirage.
Simply fill out the form below and a member of our team will respond to you as soon as possible.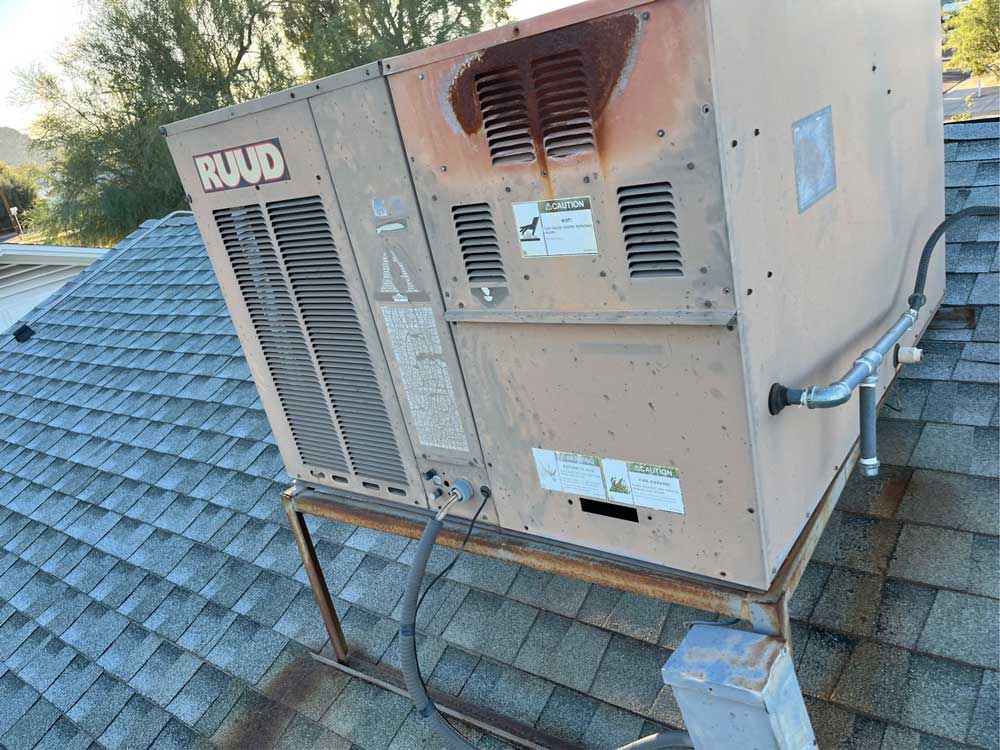 When your air conditioner loses its cooling efficiency, it's time to have an expert check it out  to determine the cause of the problem. As with any system, an air conditioner shows signs indicating it's about to fail before it actually fails. Some obvious signs that your system needs repair include:
Lack of cool air

Strange squealing, grinding or rattling noises

Water or refrigerant leaks

Musty or moldy smell

High energy bills
When you notice these signs, call 1st Choice Mechanical LLC immediately for system diagnosis and repair. Our technicians have extensive experience repairing all makes and models of air conditioning systems. From minor repairs to major overhauls, no job is too big for us. 
Also, we understand that not every problem needs replacement parts to solve. Sometimes, a complete system overhaul is necessary. If that's what your problem calls for, we are ready for it. Furthermore, we offer 24/7 emergency service. So if your AC goes out during a heat wave or after the power goes out due to a storm, we will be there for you.
If you are in El Mirage and need reliable AC repair services, give us a call today.
AC Maintenance in El Mirage
AC maintenance helps extend the life of your equipment. If you neglect your system, it begins to break down and eventually call for a replacement unit. With routine maintenance, your system runs at its peak performance for longer.
Additionally, AC maintenance saves you money. If you leave your system unattended for too long, the compressor and other vital system components could sustain damage. Leaks and rust could develop, leading to higher repair costs and replacements. 
Hence, you should keep system parts well-maintained to avoid throwing money down the drain through unnecessary repairs. Moreover, maintenance removes debris buildup that could cause system breakdown. To put it simply, AC maintenance is key to keeping your unit running smoothly, even during the hottest summer days. That's why we are here. 
When you hire 1st Choice Mechanical LLC for AC maintenance services, you can rest assured that your system will run at its best, saving you energy and money. Our technicians are trained to identify any issues with your HVAC system and fix them before they become bigger problems. We also ensure your air conditioner is continuously updated with the required safety features.
Call us today if you're ready to start enjoying the benefits of a reliable HVAC system.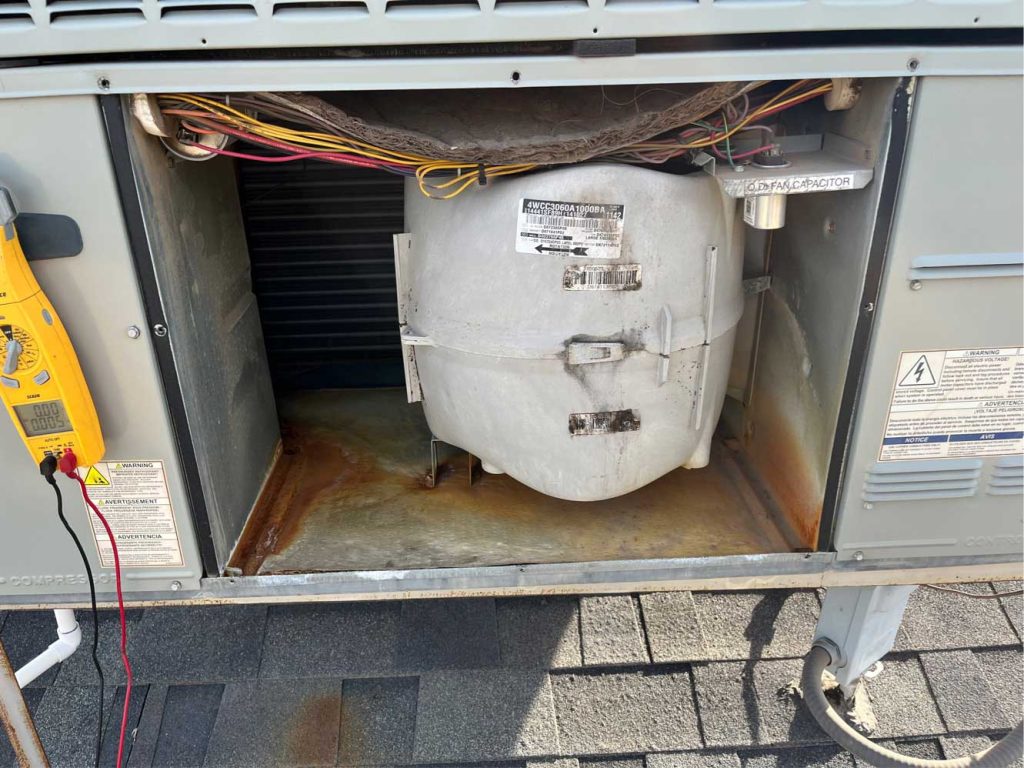 AC Installation in El Mirage
The temperatures can get really hot in El Mirage during the summer months, which can significantly increase your energy bills. To combat this situation, 1st Choice Mechanical LLC can install an efficient air conditioner in your home so you can enjoy cool indoor air all year round, especially if your home lacks adequate airflow. 
An AC system enhances proper airflow throughout the house, allowing for better air circulation, hence keeping the temperatures down. And when winter sets in, an AC keeps you warm without using as much energy as other heating methods, which means less money is spent on utility bills each month. But to derive these incredible benefits, you must install your AC correctly. And that's where we, 1st Choice Mechanical LLC, come in.
We know that you're busy and need your AC installed fast. That's why we offer same-day AC installation services in El Mirage and the surrounding areas. When you hire us, we will install a unit designed for the climate where you live, so you don't have to worry about it getting too hot or too cold. We also handle everything from the design and installation to the final check-up after installation. Moreover, we offer free replacement parts for any defects or unexpected problems that may arise during installation.
Looking for an affordable and reliable home AC installation service in El Mirage? Don't hesitate to call us at (623) 323-1021 today.
Heat Pump Repair in El Mirage
Are you suffering from heat pump failure in El Mirage? If so, you are not alone. Heat pump failure is a common problem that can leave homeowners with an expensive bill and a less-than-ideal environment. But there is hope. At 1st Choice Mechanical LLC, we have the expertise to repair your heat pump and get your home back on track.
Heat pumps use an outdoor air source to move heat from one space to another. However, heat pumps are highly susceptible to the impact of inadequate insulation, which causes the unit to work harder than it should and reduces its efficiency. Also, since they use a refrigerant to transfer heat, a heat pump can't transfer enough heat to warm your space when refrigerant levels are low. If you are a homeowner in El Mirage, call us for heat pump repairs when you notice the following signs.
High humidity levels

Burning smell coming from your heat pump unit or the vents outside your home

A noisy unit during operation 
When you call us, we will run a full diagnosis on your system to identify the cause of the problem. Then, we will fix any issues we find to restore the smooth functioning of your system. We have the right equipment and staff, so you can trust that we'll get the job done right.
If you need heat pump repair services in El Mirage, we are just a call away.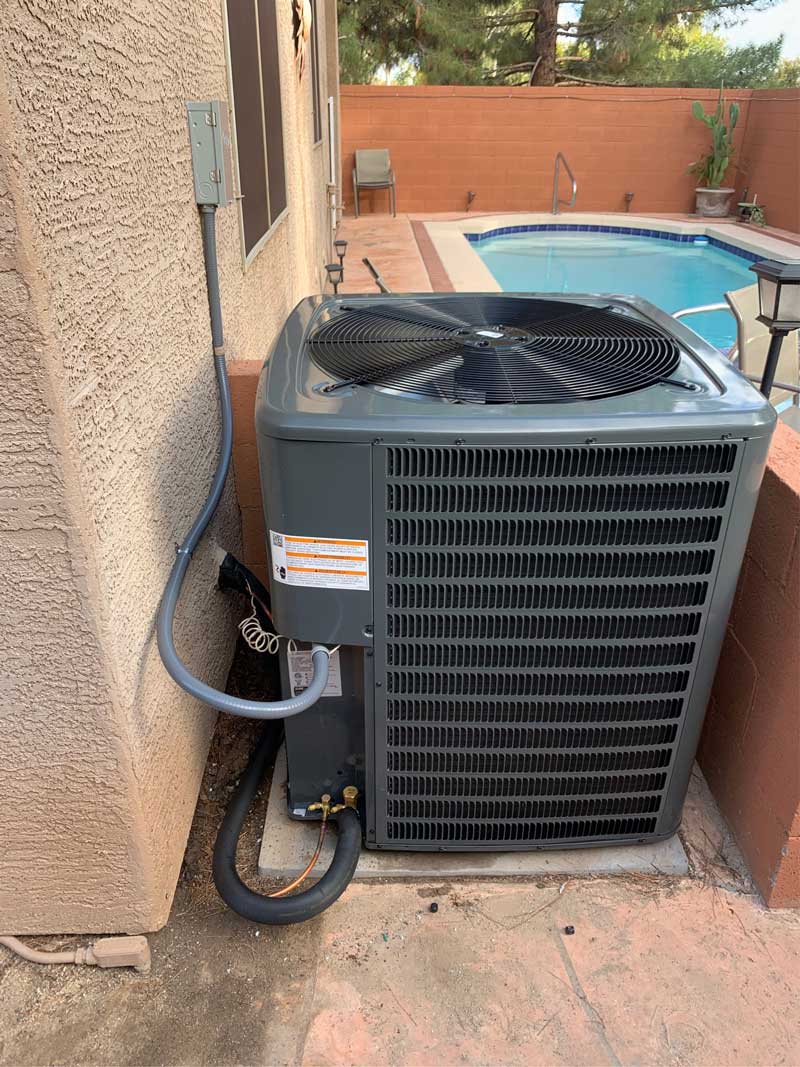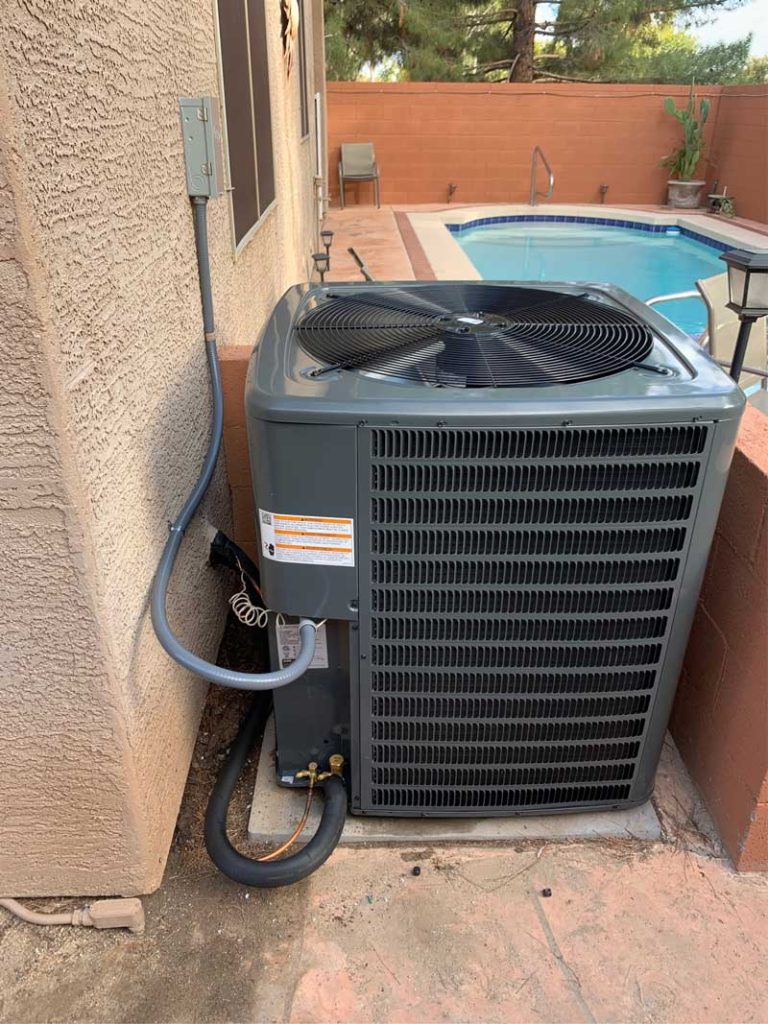 Heat Pump Installation in El Mirage
A heat pump uses the refrigerant in your air conditioner to move heat around instead of just cooling it down. Consequently, your air conditioner doesn't have to work so hard to cool your house during summer, saving energy costs. Since your AC doesn't strain anymore, you will enjoy a quieter operation and less heat during the summertime. 
Additionally, you can do away with that noisy fan and save energy with a heat pump system instead. And since heat pumps don't need to run constantly all year long, they use less electricity than regular air conditioners, reducing energy bills further. Better still, a heat pump lasts many years when you maintain it properly. Most of them are built with non-corrosive materials that don't require frequent replacement, so durable service is guaranteed. For the best service, you should enlist a professional to install your heat pump.
At 1st Choice Mechanical LLC, we provide expert heat pump installation services. Whether you need to replace your old system or install a new one, we have the requisite skills to do it right the first time. We will help you choose the right model for your needs, as well as help you determine how much space you need to cover to accommodate it. Then we'll go ahead and get started on your project. We take care of everything, from the design phase to the installation. We will even handle warranty work on your new heat pump if needed.
And our service doesn't end there. We perform routine maintenance regularly, such as cleaning the coils and checking for leaks, to keep your new system running efficiently. At 1st Choice Mechanical LLC, we always go above and beyond to deliver quality service. 
For more information on our heat pump installation services, contact us online or call us today at (623) 323-1021.
Airduct Cleaning in El Mirage
Air ducts ventilate your home, which makes them an essential part of the HVAC system. They also deliver cool and warm air into your home. Air duct cleaning is a routine maintenance procedure that keeps your HVAC system functioning properly. If cracks or holes exist in the air ducts, they can allow moisture or dust particles into the system and damage it over time. This can lead to heating or cooling issues and other problems, such as mold growth, which could adversely affect your home health.
If your location has high pollen levels, mold spores, and other airborne particles, you should have your air ducts cleaned every few months. This service not only keeps your home clean but also keeps your HVAC system healthy so that it continues providing reliable and efficient heating and cooling all year round. Don't forget that to keep your air ducts in the best shape, you need to hire cleaning professionals like 1st Choice Mechanical LLC.
Our residential air duct cleaning services are designed to ensure your HVAC systems run at peak performance so you can enjoy comfortable indoors without worrying about your air duct system. We use high-quality equipment and products to remove all the dirt from your system and prevent mold from spreading.
When you call us, our technicians will show up in the shortest time possible and won't leave a mess or debris behind once the cleaning is done. All debris will be disposed of properly, so it doesn't affect other parts of your home. We also guarantee our work 100%. If you aren't pleased with the results, we will be happy to come and clean your air ducts again at no charge.
Ready to have your air ducts cleaned? Contact us today.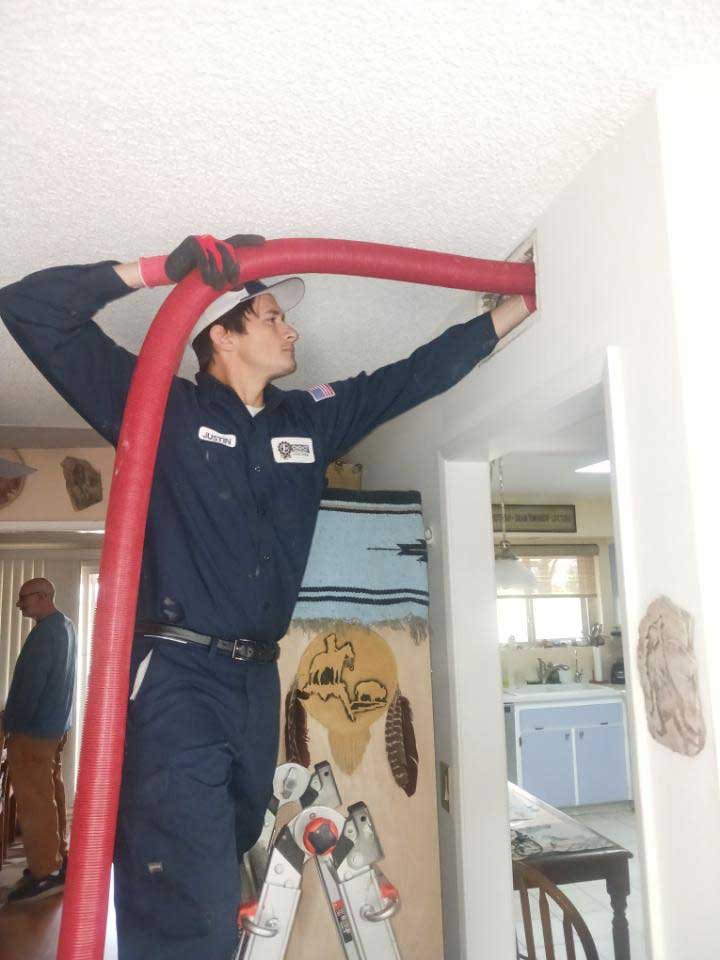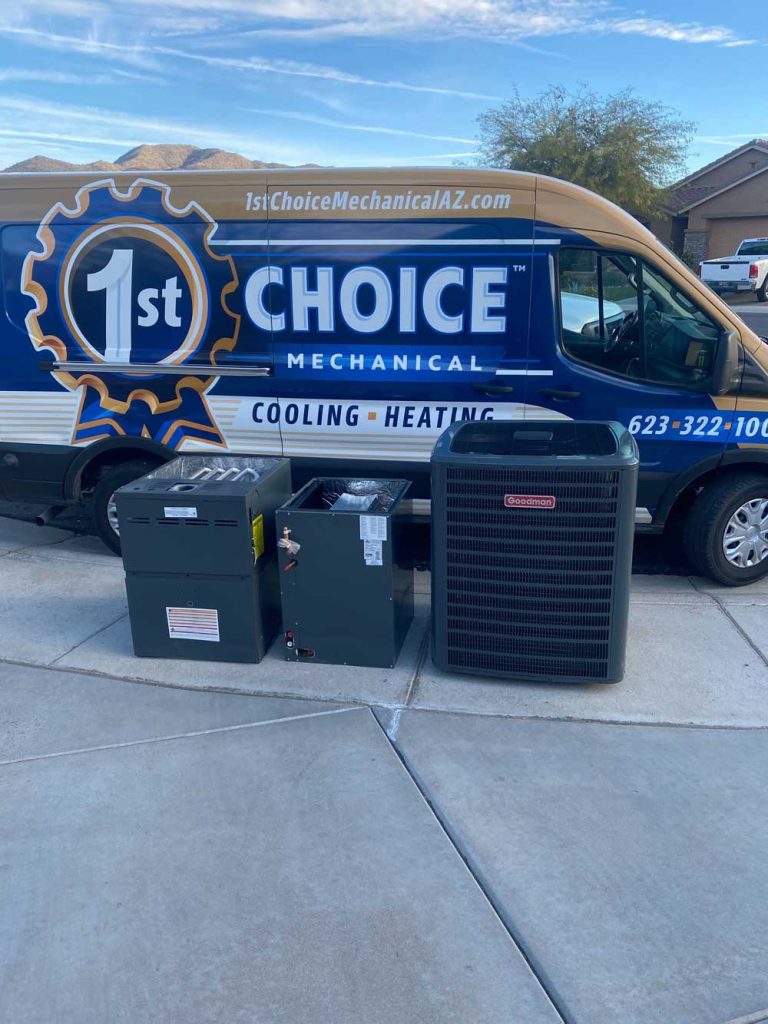 Emergency HVAC Services in El Mirage
When you have an HVAC system, you want to know that if a problem arises, you have someone on hand to help you fix it. To ensure that happens, 1st Choice Mechanical LLC offers 24/7 emergency HVAC services in El Mirage. When you call us, one of our expert technicians will come to your home, quickly diagnose any problems with your system and make the necessary repairs on-site.
When To Call Us for 24/7 Emergency HVAC Repair
While your heating and cooling system runs normally, it's imperative that a 24/7 emergency HVAC service is standing by in case your system malfunctions unexpectedly. Some HVAC issues that require emergency repairs include:
Coolant leaks

Blocked ducts

Filters that need changing

Furnace problems

Blower motor issues

A clogged drain
Call us immediately when your system develops any of the above issues. No matter what time of day or night it is, we always have a technician on standby, ready to help.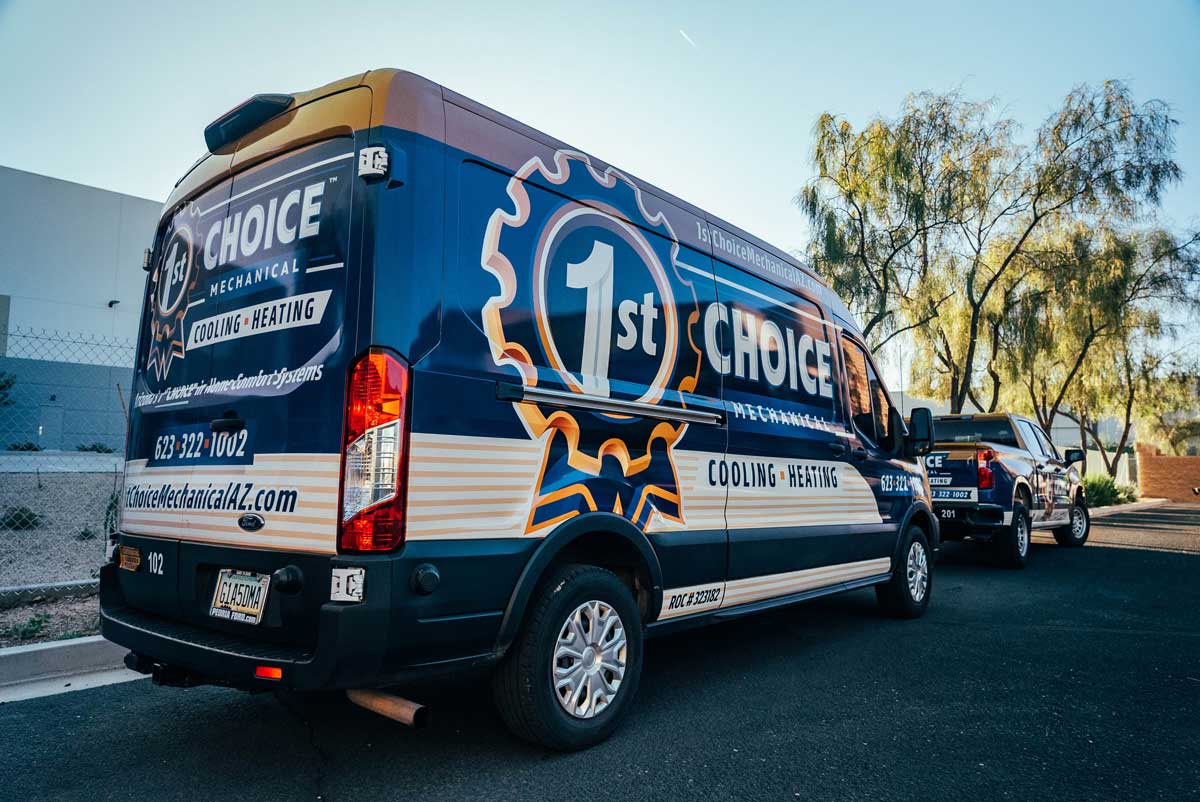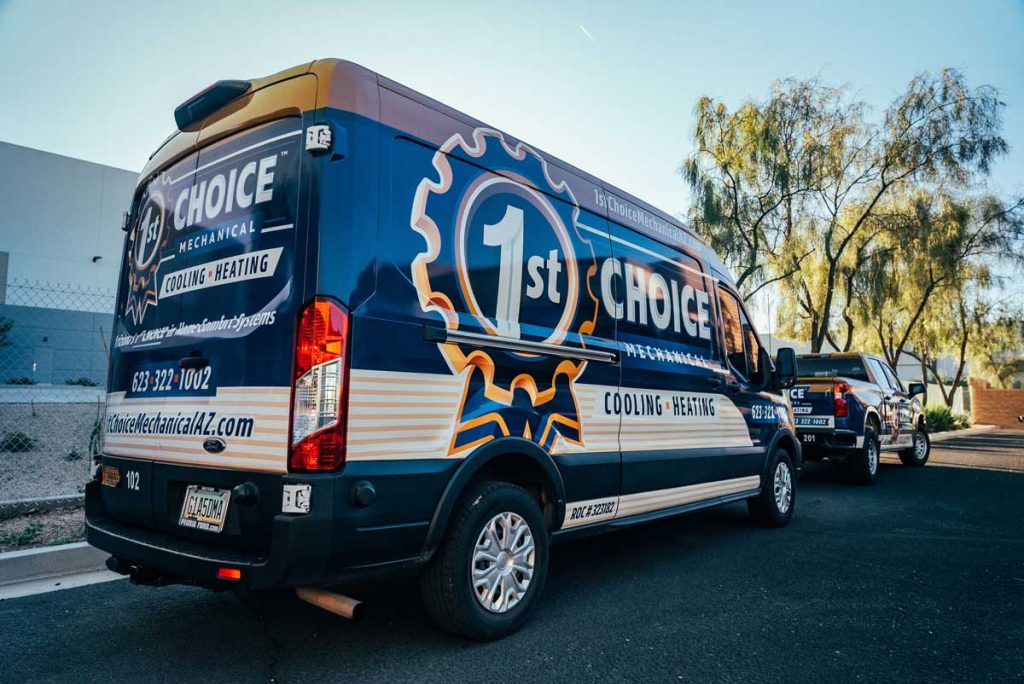 Choose 1st Choice Mechanical LLC as Your Residential HVAC Contractor
We are the El Mirage residential HVAC experts. We have been in business for over 20 years, during which we have served our customers with quality workmanship and unrivaled customer service. We use only the most advanced technology and specialized tools to fix HVAC systems, so you can rest assured that your system will always receive the expert care it deserves. Furthermore, we provide 24/7 emergency HVAC service. So no matter what time of the year it is, 1st Choice Mechanical LLC will always be here for you.
Contact 1st Choice Mechanical LLC online or call (623) 323-1021 to schedule residential HVAC service for your El Mirage home.