#1 Furnace Repair Company in Phoenix, AZ, with Over 500 5-Star Reviews
When your furnace makes strange noises, you need furnace repair in Phoenix, AZ, from 1st Choice Mechanical LLC. Call us at (623) 323-1021!
It is essential to have an effective heating system that keeps your home warm and comfortable during the winter months. Therefore, when your gas furnace does not work as well as it should, your pipes could freeze, and your system could shut down. This is where our expert team steps in.
1st Choice Mechanical LLC is a furnace repair company that provides Phoenix residents with fast furnace and heater repair services.
Simply fill out the form below and a member of our team will respond to you as soon as possible.
Furnaces have numerous interconnected parts that must work at their best for success, and one faulty or broken component can make furnace repair a necessity. But when do you need furnace repair services? Look for the following signs:
The blower will not stop producing air or is not releasing any air at all.

You have a faulty thermostat or unexplainable problems.

The pilot light will not turn on.

The furnace burners will not stay lit.

Your blower motor is not working or making strange noises.

The furnace turns off prematurely due to the sensor.

The exhaust vent is full of dirt and debris.
Home and business owners should look for these key indicators that they need furnace repair services.
Your home is not getting warmer.

The system is short cycling or won't turn on or off.

There is poor airflow, and the air is not as warm as you want.

You smell rotten eggs, sulfur, or any other foul odors.

Your energy bills are increasing.
Furnace Installation Services
We can install new gas furnaces in Phoenix, AZ, for businesses and homeowners. We will show you all available brands, models, and price points and ensure your new furnace will be compatible with your existing duct system. You are in good hands when you work with 1st Choice Mechanical LLC—our numerous 5-star reviews, licensed service technicians, and a passion for high-quality work support that.
The average furnace installation time is 4-5 hours, but more time might be necessary. Scheduling regular maintenance after a furnace installation is essential to keep it in good working order and to help save you money. It also keeps the circulating air inside your home comfortable and clean.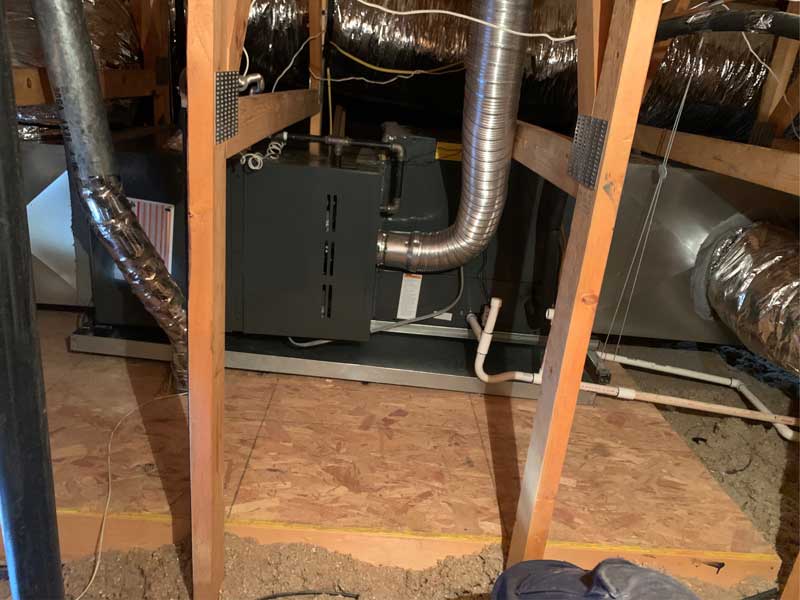 FAQ's Regarding Heating Repair
Factors contributing to the price of furnace repair include the furnace's age, condition, and size; the time it takes to perform the repair; the product's warranty; and the service itself. You may receive different quotes if you consult more than one company.
The average lifespan of your furnace can range from 10 to 15 years, but putting in the proper maintenance and addressing issues as they arise is essential to making it last. A furnace may break down more often and need replacing if major problems worsen or you do not immediately fix them.
A furnace reaching 15 years or older may benefit more from a replacement than making extensive repairs. Frequent breakdowns and problems with your furnace may be more trouble than it is worth repairing. If you notice your repairs cost 50% of what you would spend on a new furnace, it is more cost-efficient (and better for your home) to replace it with a new or updated model.
We can help you decide if heater repair or replacement is your best option and evaluate if your system is past its expected lifespan.
Furnace & Heater Repair Near Me | 1st Choice Mechanical LLC
Are you looking for heater repair near me? 1st Choice Mechanical LLC can quote you for immediate heater servicing. Don't settle for being uncomfortable in your home while your furnace or heater does not work; our team has the experience to tackle any issue! Our technicians are ready to assess your heat pump, heater, or furnace and determine if a repair or replacement is the best next step.
1st Choice Mechanical LLC proudly serves the Phoenix, AZ, community and the nearby areas, offering professional heating and furnace repair, installation, and replacement services. We have over 20 years of experience and can help you and your family stay warm this winter with our furnace and heater servicing.
Call (623) 323-1021 for a furnace repair consultation or a free quote based on affordable pricing.