#1 Heating Maintenance & Tune-Up Service in Phoenix, AZ
Your heating system plays a substantial role in keeping your Phoenix, AZ, home comfortable during the winter. Furnaces won't last forever, but routine heating maintenance will keep your system running at an optimal performance level for a longer time.
In Phoenix, 1st Choice Mechanical LLC is the go-to provider of furnace maintenance. We have over two decades of HVAC experience. Our technicians know how to prevent premature wear and tear of heating systems and find ways to improve their efficiency.  
Contact 1st Choice Mechanical LLC for details about heater preventative maintenance in Phoenix, AZ!
Simply fill out the form below and a member of our team will respond to you as soon as possible.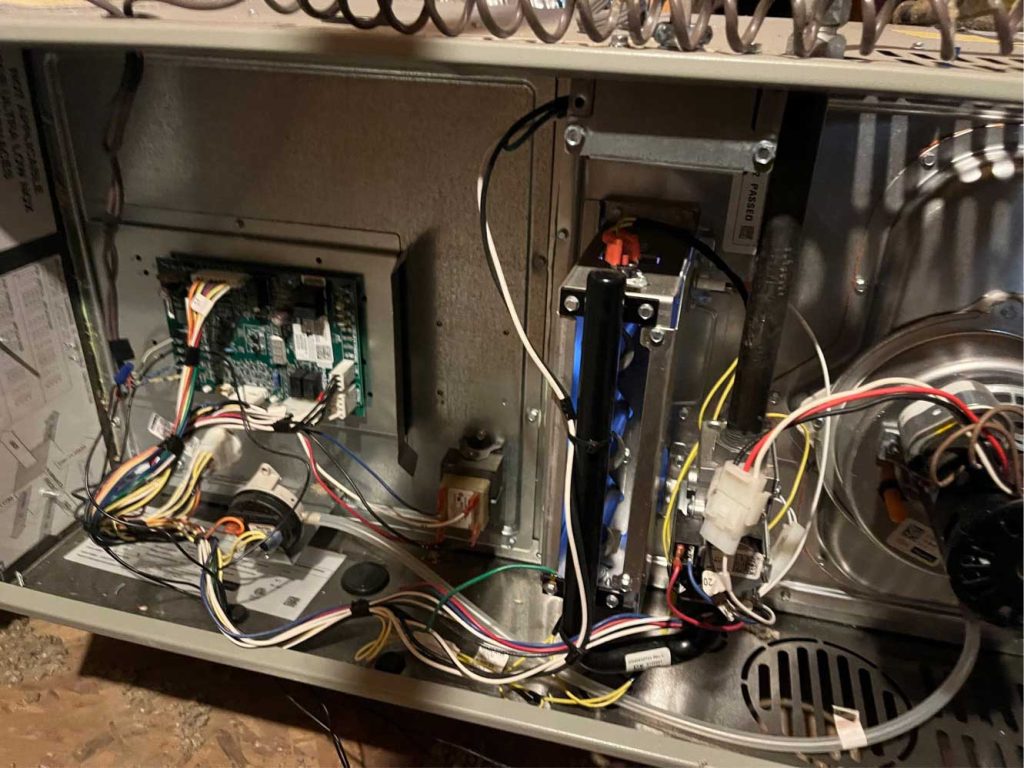 Heating Maintenance Near Me in Phoenix, AZ
Even though you use your heating system every year, you might not immediately realize it has a problem. For instance, if your furnace is short cycling and failing to warm your house effectively, you might not recognize the problem until it's too late.
Treat preventative heater maintenance as an investment in your Phoenix, AZ, home and its comfort. The service prepares your system for the winter by helping uncover potential problems before they become significant. It also gives HVAC technicians ample time to fix existing problems and maximize the system's efficiency. 
1st Choice Mechanical LLC offers annual tune-ups and maintenance agreements. Our Comfort Club maintenance agreements are a step above routine tune-ups because they include extra benefits such as discounts on HVAC repairs, warranties, and priority scheduling. However, annual maintenance alone benefits your system for these reasons:
You'll reduce the need for costly repairs

You'll extend your furnace's lifespan

You'll see monthly savings from a system operating at a higher performance
The last thing you want is to experience a furnace breakdown in the middle of winter. Heating maintenance can prevent this issue because the technician will find and fix problems at their earliest stages during the tune-up. 1st Choice Mechanical LLC recommends scheduling furnace maintenance in the fall before temperatures drop. 
By requesting the service ahead of time with our technicians, you can avoid unwanted surprises when you need to warm your house. With our skills and expertise, you can be sure to prepare your Phoenix home to battle the winter chill. 
What To Expect During a Furnace Tune-Up
A heater tune-up might seem complicated because the technician will thoroughly assess the heating system. However, 1st Choice Mechanical LLC professionals have years of HVAC training. They can quickly inspect, clean, and calibrate the components of any heating unit, regardless of type, model, or brand.
Our team uses a detailed checklist to ensure that we assess the heating system from top to bottom. There's no industry standard for a furnace tune-up, but we will perform various steps to ready your furnace for the winter, including:
Inspect your vent system and fresh air intake grills to remove debris 

Check the blower door on hot air heaters like gas furnaces

Examine the heat exchanger for signs of corrosion

Clean the pilot assembly, burners, and flame sensors

Test the operation controls and adjust as necessary

Check for carbon monoxide leaks

Calibrate and tighten electrical wiring

Lubricate moving components, including the fans, motors, and circulators
Turn to 1st Choice Mechanical for Reliable Heating Maintenance Services
Whether you want to benefit from a heating maintenance agreement or prefer a one-time tune-up, you can count on 1st Choice Mechanical LLC to do the job right. As a five-star rated heating and air conditioning contractor serving Phoenix, AZ, we know what it takes to keep a heating unit operating at peak performance. 
Our fully trained, licensed, insured, and bonded technicians can keep your heating and cooling system fully functional at affordable rates. Request a heating maintenance appointment with 1st Choice Mechanical LLC at 623-322-1002.