RESIDENTIAL HVAC Sun City, AZ
As a homeowner in Sun City, you want your HVAC system maintained by a team of professionals who know what they're doing and can provide high-quality customer service at an affordable price. That's why we are here. 1st Choice Mechanical LLC is Sun City's best-kept secret for residential HVAC services. We provide everything from installations and repairs to maintenance and replacements. No matter the service you need, we've got you covered.
Our residential HVAC service is designed to ensure our customers are protected from extreme heat, cold, and moisture. Our team of experts has the knowledge, experience, and dedication required to provide top-quality to ensure your Sun City home stays comfortable all year round. You can rely on our master technicians to ensure your home is built to last through every season. We strive to exceed customer expectations, whether it's a half-hour service call or a year-long emergency service agreement. 
1st Choice Mechanical LLC in Sun City
At 1st Choice Mechanical LLC, we have 20 years of experience working on all types of systems, from small residential units to large apartment complexes. We offer diagnostics before any work begins so that you can get lasting solutions for your budget. And if something needs fixing or replacing, we will stay with you until it's done, just like our 100% satisfaction guarantee says. Our range of services includes:
Call us at (623) 323-1021 for comprehensive HVAC services in Sun City.
Simply fill out the form below and a member of our team will respond to you as soon as possible.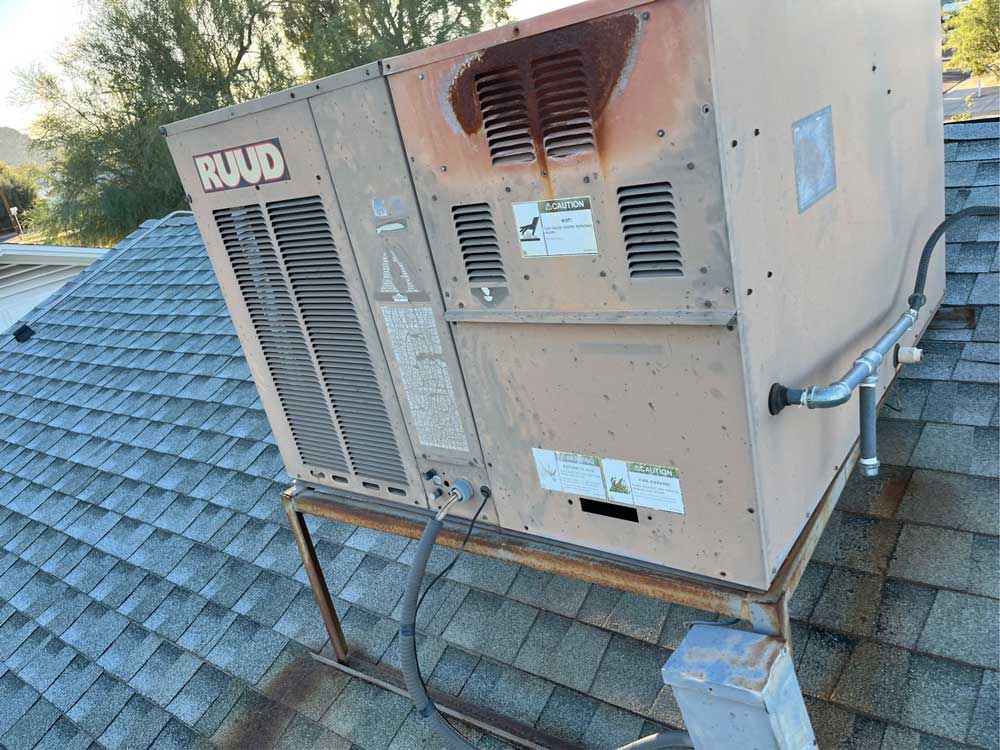 Your AC unit is critical to your home's comfort. When it malfunctions, you should have it fixed right away. If you wait too long, the problem could worsen and call for costlier repairs or a replacement AC unit. Some signs that your AC needs repair include
Your system is louder than usual

You see condensation on the inside of your windows

Your air conditioner cycles on and off too often or not at all

You smell a burning or moldy smell in your house after you turn the AC on or off
Other common AC issues include high compressor fan speed, leaking refrigerant due to broken lines, or warm air blowing into your home. When your AC exhibits any of these signs, you should contact the experts at 1st Choice Mechanical LLC for repairs.
We can handle all AC repairs, from small jobs like replacing a filter to large projects like replacing your entire system. We only use the best equipment and materials during repairs to ensure the issues won't recur. Moreover, we are available 24/7, so you can call anytime (including the weekend) to get your unit repaired quickly.
When your AC begins to act up during summer, call us for the best AC repair services in Sun City.
AC Maintenance in Sun City
Running your AC unit is one of the essential parts of keeping your home comfortable. However, if you don't keep up with preventative maintenance of your system, problems will develop later. 
At 1st Choice Mechanical LLC, we perform regular maintenance on your air conditioning system to ensure it works efficiently, which increases your system's lifespan. We offer a basic annual checkup and seasonal checkups to help you avoid costly repairs down the road. The most common maintenance items include:
Check the unit's filters regularly and clean or change them when needed

Check for blockages in the system, including dirt and debris in the suction ports, cracks or holes in the condenser, and clogged air vents

Conduct a thorough system inspection to ensure no refrigerant leaks inside or outside the unit

Install a new air conditioner if necessary
These are just a few ways to keep your system running at its best, but there are more. We can help you figure out what works best for you. Our trained technicians have the tools and expertise to handle any job, so expect the best possible service at every visit.  Moreover, our service is 100% guaranteed, so we will always make it right if anything goes wrong on our end. We have years of experience working with HVAC systems and keeping them running smoothly for Sun City families, so exceptional service is guaranteed.
Looking for professional help with your air conditioning needs? Contact us today.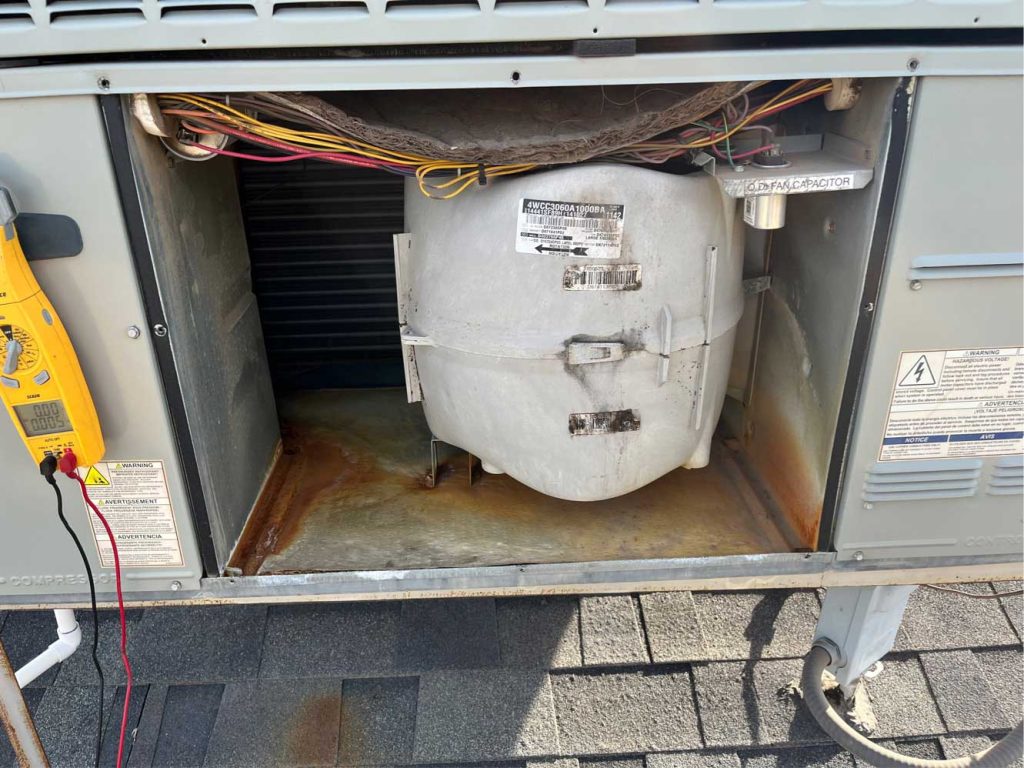 AC Installation in Sun City
A new AC unit boasts numerous perks. Firstly, a new AC unit runs more efficiently than the old model, saving you money on energy bills. Additionally, an efficient unit can run at higher temperatures and still maintain good air quality throughout your house. Better still, a new unit will reduce the dust and dirt generated in your home, improving indoor air quality and your family's health. Other benefits are less noise during operations and longer equipment lifespan.
However, there's a lot to consider when installing an HVAC system. You must keep in mind your family's safety and comfort, and that's why we are here to ensure that all that's important is taken care of during installation. At 1st Choice Mechanical LLC, we offer professional AC installation services in Sun City. So, whether you need a new system or want to check out the options available, we will be happy to help.
We offer various options for AC installation, including wall and window units. We have models designed to fit just about any home design or budget. And if you want to customize your new system, you can choose from the different colors and styles available or get creative with some of our more unusual options, like the spiral ceiling ventilation system.
So, if you are looking for an affordable AC installation service in Sun City, look no further than us. We offer free estimates, so don't hesitate when it comes time to install your AC. We are only a call away.
Heat Pump Repair in Sun City
Heat pumps are great for heating and cooling your home but can be a little temperamental. For instance, heat pumps make noises when running, and that's not normal behavior. Also, if your unit isn't wired correctly, it can't work properly. Your system might also have faulty seals, which could interfere with your heat pump's efficiency. Faulty seals are common in older units, but newer models can develop faulty seals after being damaged by birds or small animals.
Another issue is when your heater doesn't have enough power, so you have to turn up the thermostat higher than usual to attain comfortable indoor temperatures. Cracks, holes, or dirt in your ductwork can also damage your heat pump's efficiency. If these issues aren't addressed promptly, your unit could break down and leave you in the cold. And that's where 1st Choice Mechanical LLC comes in.
We are familiar with all types of residential heat pumps, including those with rooftop units, wall-mounted units, split systems, and more. We offer 24/7 emergency service and can be at your home in the shortest time possible with all parts necessary to repair your heat pump. Our professional technicians will diagnose the problem to determine if you need a replacement unit or if it's just something they can fix on the spot to restore your system's functionality.
If you're looking for an HVAC company in Sun City that offers affordable heat pump repair services, give us call at (623) 323-1021.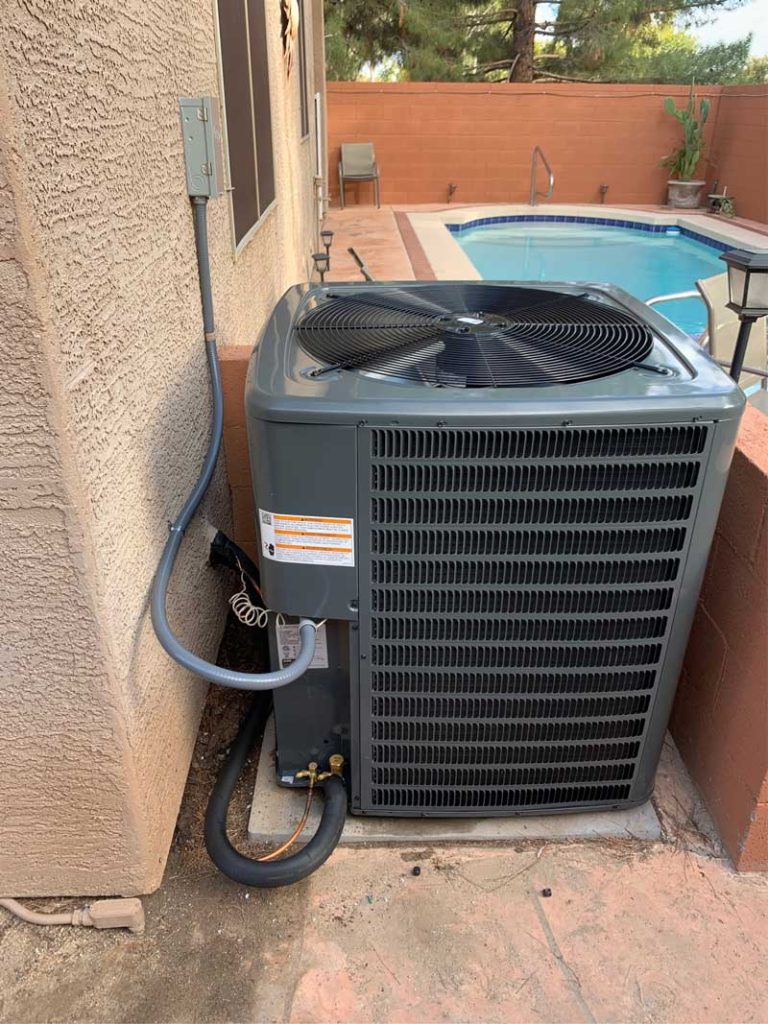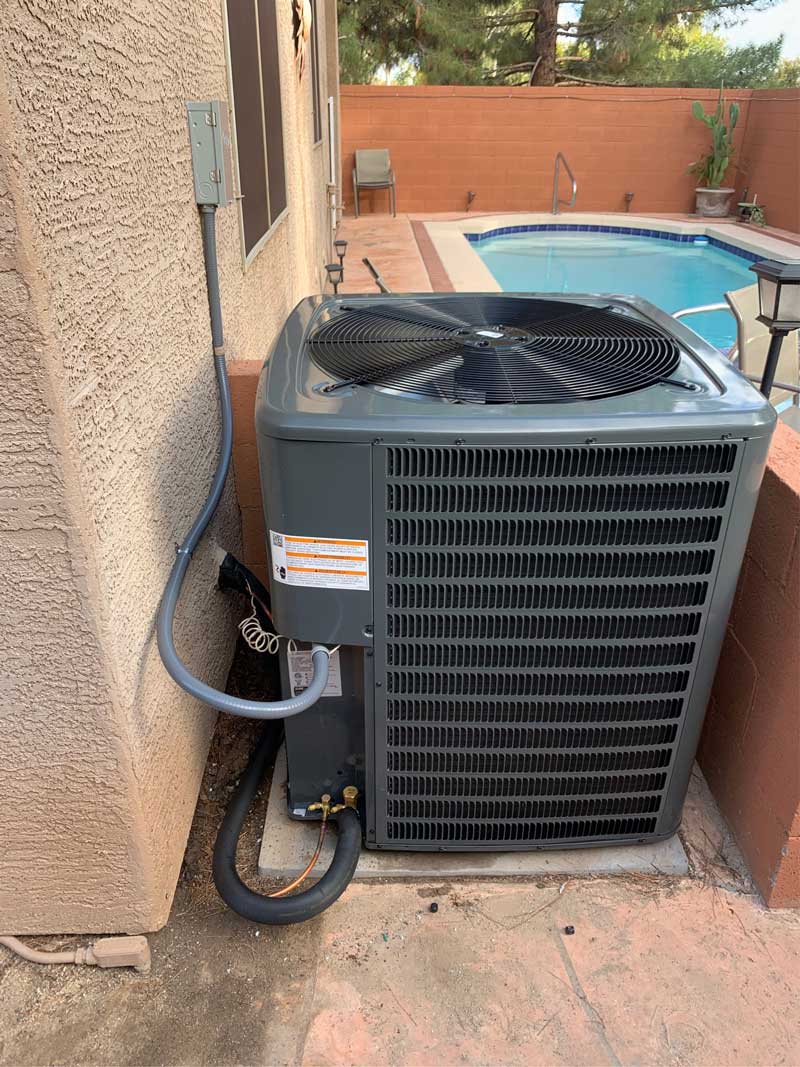 Heat Pump Installation in Sun City
A heat pump packs a serious punch when it comes to efficiency and comfort. Heat pumps are designed to transfer heat from the hot side of the system to the cold side, which makes them more efficient than standard furnaces or air conditioners. A heat pump is quieter while running than other systems, so it doesn't disturb you at night or startle you during the day.
Heat pumps are also incredibly energy efficient, which saves you money on your utility bills each month, year after year. When you combine these factors with the fact that a heat pump is also cheaper than most heating systems, it's easy to see why many Sun City homeowners are turning to heat pumps to conserve energy in their homes.
If you need help with your heat pump installation, 1st Choice Mechanical LLC is here to help. Whether you need a new system or want to fix your old one, we've got you. We will take care of everything from design to installation and maintenance. You will get personalized attention and superior service, so you can rest assured that your new system will work great when installed.
We offer affordable heat pump installation services, so anyone can afford us without breaking the bank first. Give us a call today and schedule an appointment.
Airduct Cleaning in Sun City
Airduct cleaning is a must for a home with air ducts. This service helps maintain the health of your HVAC system and home. It helps remove dirt, debris, and dust from your ductwork, which can be a breeding ground for bacteria and may adversely affect allergy sufferers and people with respiratory issues in your home.
Cleaning your airducts regularly improves your system's efficiency by reducing the amount of dirt and grime that builds up over time. This helps keep your home cooler in the summertime and warmer in the winter months. So, if you want to eliminate mold and dust from your home to reduce sick time and discomfort, call the experts at 1st Choice Mechanical LLC for airducts cleaning services.
When you call us, our technicians will go through your entire home and ensure it's free of mold, dirt, and dust. We use advanced equipment that allows us to clean deep into your ducts with minimal damage to your home. Our technicians are trained professionals who know how important your air ducts are to your overall health. They will take great care of your airduct system, so you don't have to worry about getting sick again.
Don't wait any longer. Contact us at (623) 323-1021 for the best airduct cleaning services in Sun City.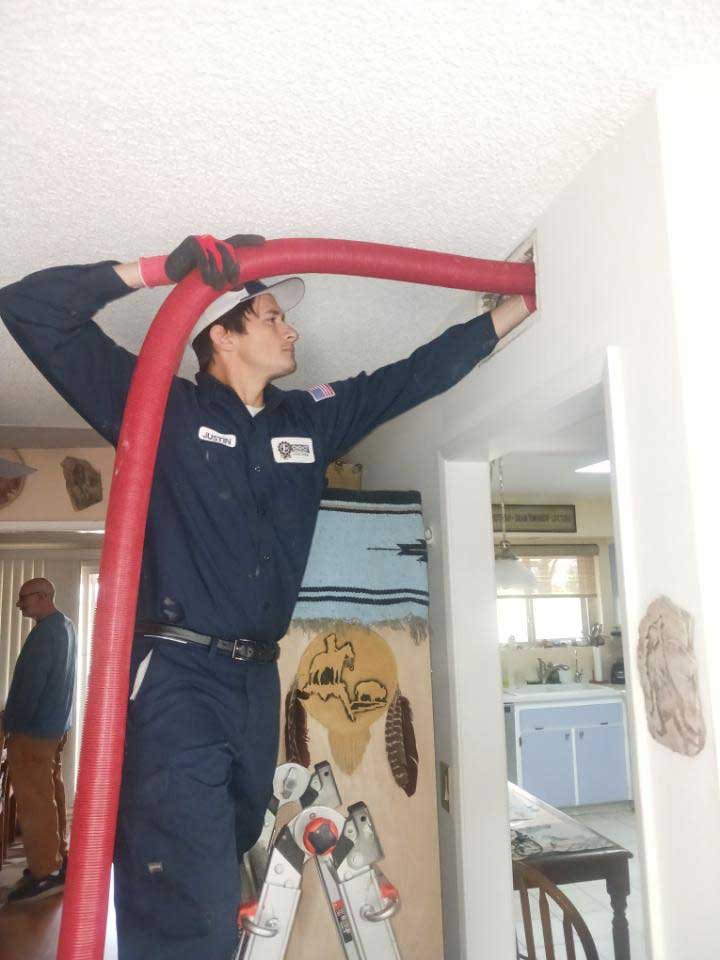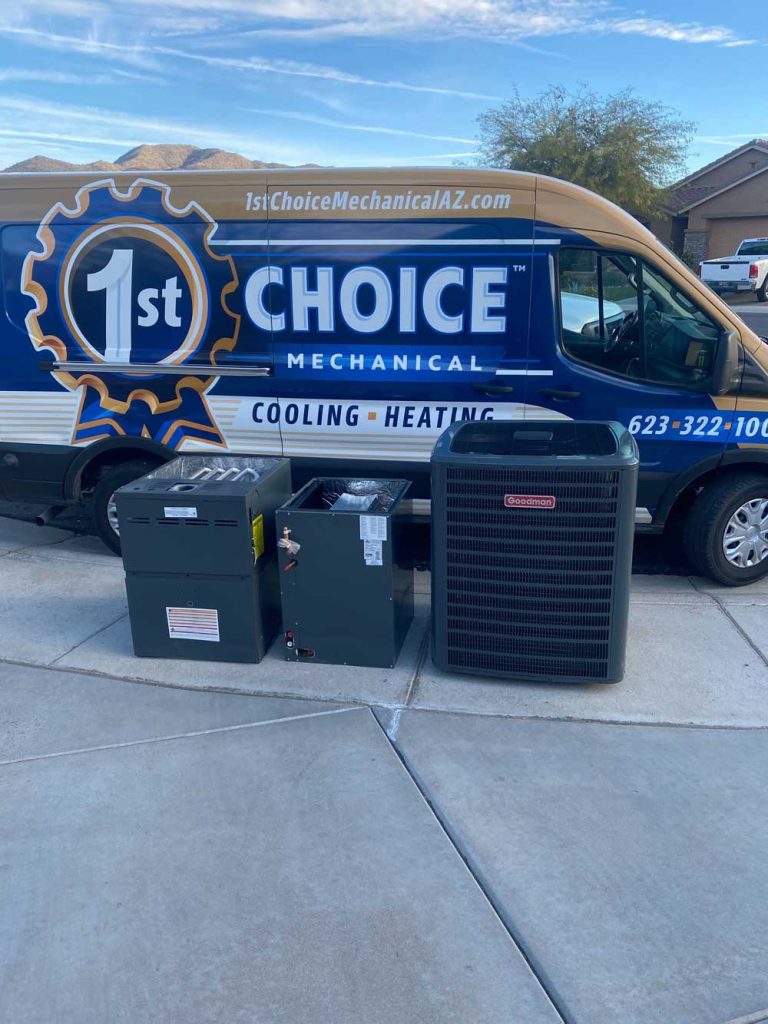 Emergency HVAC Services in Sun City
When you need emergency HVAC services in Sun City, you want to work with professionals who will show up at a moment's notice to restore your home's comfort levels. We at 1st Choice Mechanical LLC are here for you 24 hours a day, 7 days a week, no matter the time of day or night. So, when your AC goes out in the middle of summer or your heating system fails in winter, you can count on us. We are always available for service calls, with technicians ready to come and get your system back up and running as quickly as possible.
When To Call Us for Emergency Services
If you're experiencing a problem with your HVAC system, don't wait to call 1st Choice Mechanical LLC. Here are some common emergencies that require an immediate response:
Total system failure and breakdown

Loss of cooling during extreme heat

Loss of heating during extreme cold

Major leaks or flooding in the HVAC system

Electrical problems or power outages affecting the HVAC system

Refrigerant leaks
When you experience any of the above issues, call us immediately, and we will dispatch one of our qualified technicians within an hour of receiving your call. They will be there with all the tools needed to quickly fix your problem so you can enjoy comfortable indoors again.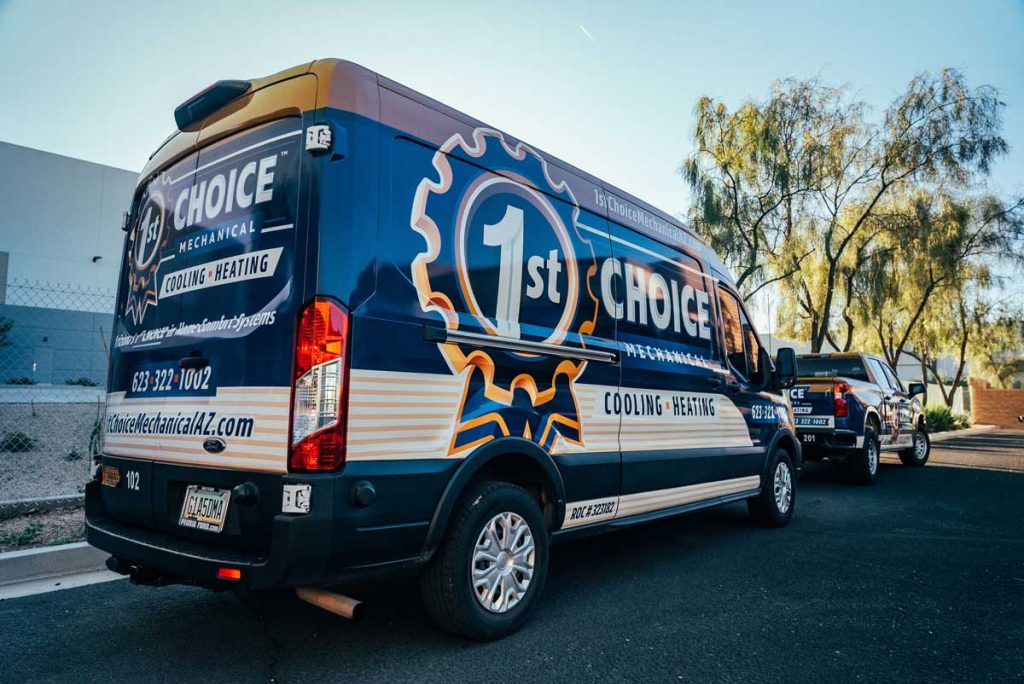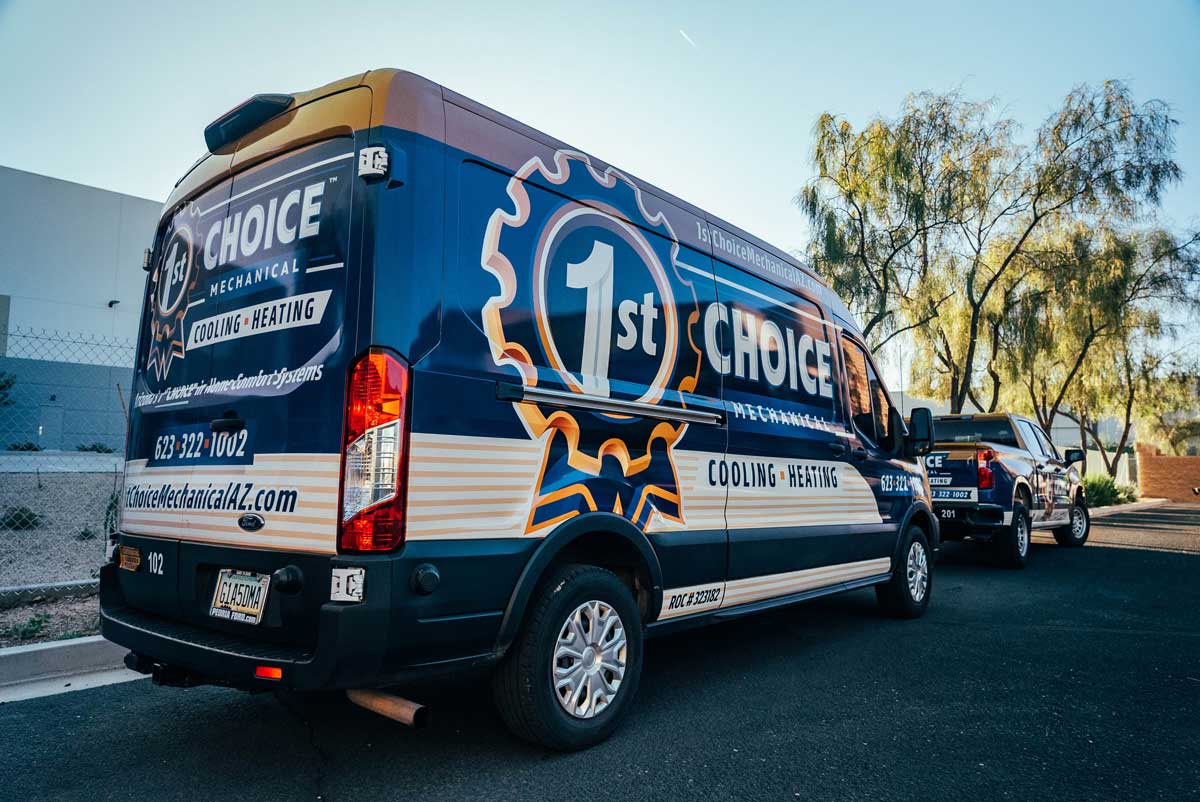 Choose 1st Choice Mechanical LLC as Your Residential HVAC Contractor in Sun City
1st Choice Mechanical LLC is a full-service HVAC contractor providing a wide range of residential HVAC services in Sun City. We are proud to be the leading home comfort providers in this area. We aim to provide the best experience possible when it comes to your home's heating and cooling system. Our technicians are fully equipped to handle any project. So, whether you need HVAC repair, maintenance, or installation services, we guarantee top-notch service that you can't get anywhere else.  
Contact 1st Choice Mechanical LLC online or call (623) 323-1021 to schedule residential HVAC service for your Sun City home.