Anthem has some of the best shopping spots in Arizona, along with beautiful community parks and natural recreation trails. However, the city is a hotspot for both sweltering heat and fun activities. Call 1st Choice Mechanical, Phoenix's heating and cooling repair company, to handle all things HVAC in Anthem, AZ. 
Temperatures in Arizona can be some of the hottest in the United States. With that in mind, non-functioning air conditioning can quickly become an emergency due to rising temperatures. If you notice these signs, you should consider calling a repair technician as soon as possible:
The AC blows warm air

The air conditioner cools rooms unevenly

The condenser coils keep freezing over

Strange odors are coming out of the vents

Your energy bills increase without a known cause
You can practice a few habits or do firsthand checkups to see if you need to call. For example, try checking your air filter because a dirty filter can block cool air from reaching the right rooms. You can also ensure your vents stay open and nothing is in the way that could prevent the air from entering.
Air conditioners require dutiful care at least once a year to ensure they can fend off the summer heat. Your system may need an occasional repair outside of annual maintenance if parts suddenly fail or come loose.
1st Choice Mechanical technicians are available 24/7 in case of emergencies to ensure you can always get help. If your AC starts to malfunction, you can call us for diagnoses and repairs, whether it's outside of business hours, on the weekend, or during a holiday. We ensure our team always has current licensing and insurance to complete efficient and detailed work for Anthem.
Simply fill out the form below and a member of our team will respond to you as soon as possible.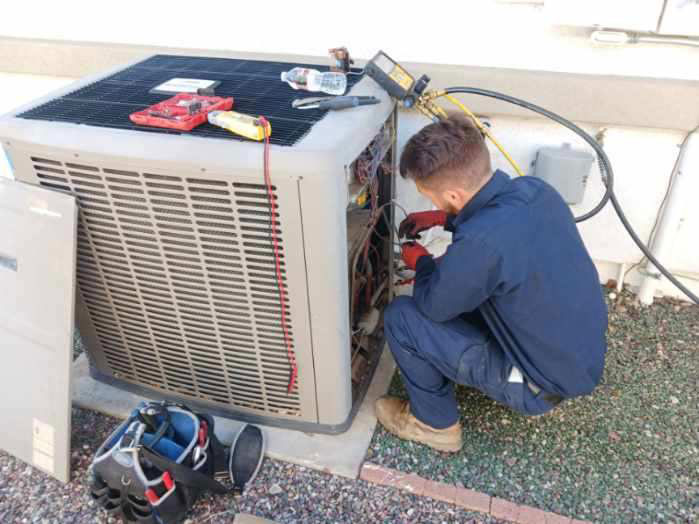 AC Installation in Anthem, AZ
Air conditioners usually last around 15 to 20 years with consistent maintenance. However, irreplaceable components eventually wear out, and constant repairs will no longer be cost-effective. In other cases, you might want an air conditioner for a new property that meets energy efficiency requirements.
Our qualified technicians can match a new AC unit to pre-existing ductwork or accommodate property differences. For example, if you want to make your garage a functional room with air conditioning, we will review ductless systems. Garages cannot have ductwork, but adding a ductless mini-split alongside your central system could be just what your space needs.
Choosing a good AC is no easy task. We do not focus on upselling potentially unsuitable appliances as we help solve your comfort needs; instead, we look at the following qualities to determine the right air conditioner for your property:
The number of rooms

The property's location

The size of the property

The brand's product reliability

Your preferred system type

The possible AC's SEER rating

Your current budget, if predetermined
1st Choice Mechanical technicians have your best interest and peace of mind at heart. We will give you several possible choices to meet your needs at a price that won't break the bank. 
A free estimate from us can give you a good idea of what you can expect. We partner with Service Finance Company to provide you with an extra boost If you need financial assistance.
AC Maintenance in Anthem, AZ
Consistent air conditioning maintenance can keep your system effectively for ten years or longer. Otherwise, it can run out of steam within eight years of use. To extend the lifespan of your system, schedule annual appointments with trustworthy specialists like 1st Choice Mechanical.
For HVAC in Anthem, annual maintenance appointments review, clean, and maintain components with thorough duties, such as:
Cleaning out the evaporator drain

Applying lubrication to moving mechanisms

Cleaning vents and replacing air filters

Testing, evaluating, and repairing system controls

Checking and recalibrating thermostat settings for the season

Checking and completing tune-ups on all electrical connections to the system
While you can try to do some maintenance yourself, like keeping blockages away from vents, others require professional assistance. For example, if you notice a refrigerant leak or suspect a refrigerant problem, you must call a licensed technician. 
Because Arizona summers get hot, most home and business owners call for system checks during that time. However, the best time of year to schedule your appointments is actually in the spring before the high temps begin. 
You can receive faster service and more scheduling availability with smart planning. Spring appointments also ensure your system is ready for summer, reducing the chance of sudden breakdowns. This process means you could prevent potential heat-related emergencies and keep from paying for sudden HVAC repairs or replacements.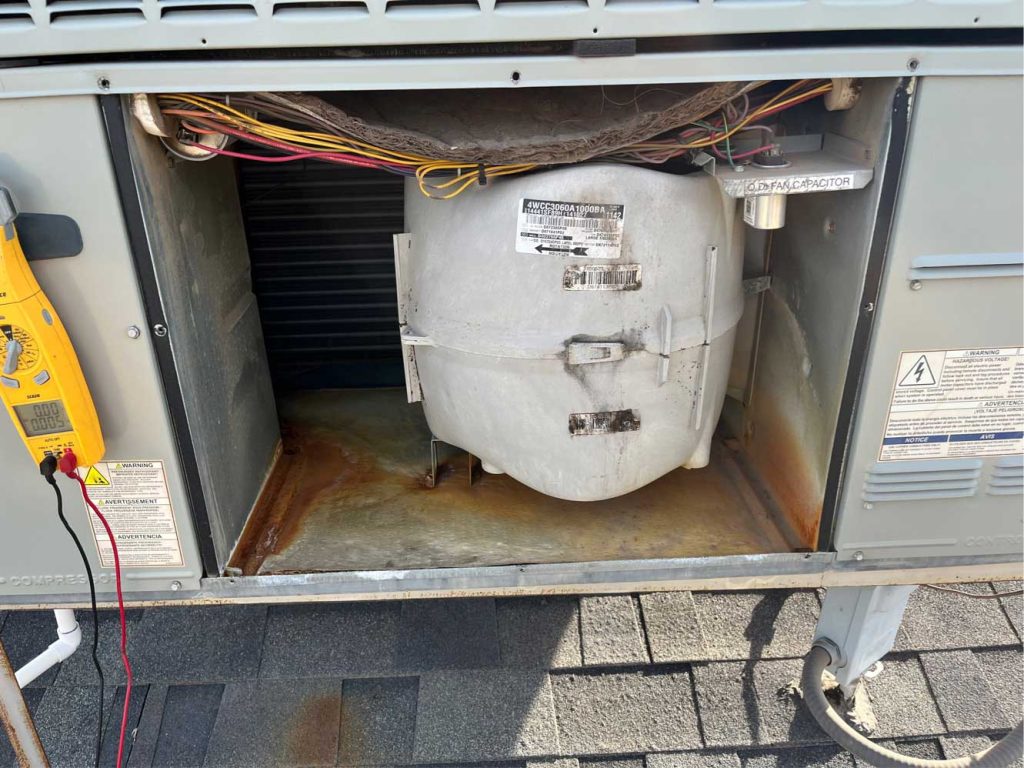 Heat Pump Repair in Anthem, AZ
Heat pumps are one of the most popular heating systems in Arizona because of their flexibility. All heat pumps use refrigerants like air conditioners to absorb and release heat energy to desired spaces. However, a pump can reverse the flow of refrigerant to change where the absorbed heat goes.
An air conditioner is a one-way system—it absorbs heat from the inside and releases it outside. Heat pumps can also go the other way, allowing the system to absorb heat from outside and release it inside. Because of this additional ability, it has more components that may require repairs.
Your repair needs also depend on the type of heat pump you have. Many Arizonans have air-source heat pumps, which absorb the heat from the air during winter weather, while ground-source, or geothermal, pumps absorb heat from the ground instead or release heat to the ground in the summer.
Geothermal methods can use various configurations, such as:
Hybrid systems

Open-loop systems

Horizontal closed loop

Vertical closed loop

Pond or lake closed loop
No matter which type of heat pump you have, 1st Choice Mechanical technicians can efficiently diagnose and repair its issues. We have over 20 years of experience working with various systems, allowing us to treat almost any HVAC in Anthem. Call us anytime and ask about our heat pump services when you suspect your system needs repairs.
Heat Pump Replacement in Anthem, AZ
Do you have an old heat pump and need a replacement or a new property that needs a fresh system? You can call 1st Choice Mechanical Cooling and Heating to install a new heat pump with new or pre-existing connections.
This kind of replacement often requires many intricate steps, as with any HVAC unit. We strongly advise against attempting maintenance or repairs yourself, as doing so could endanger your health. Rely on our licensed and insured technicians for a job well done.
We believe in helping your HVAC system last as long as possible. However, it may eventually run its course due to age, constant repair needs, or rapid cycling. If you are unsure if you need a new heat pump, consider using the 5,000 rule.
Multiply the age of your system by the repair cost you received in your free, upfront service estimate. If that amount reaches or exceeds $5,000, purchasing a newer system may be more cost-effective. Here are a few examples of how to use it:
An 8-year-old system needing a $630 repair ($5,040)—replace

A 15-year-old system needing a $300 repair ($4,500)—perhaps repair but watch due to age

A 10-year-old system needing a $520 repair ($5,200)—replace

A 5-year-old system needing a $920 repair ($4,600)—depends, but maybe repair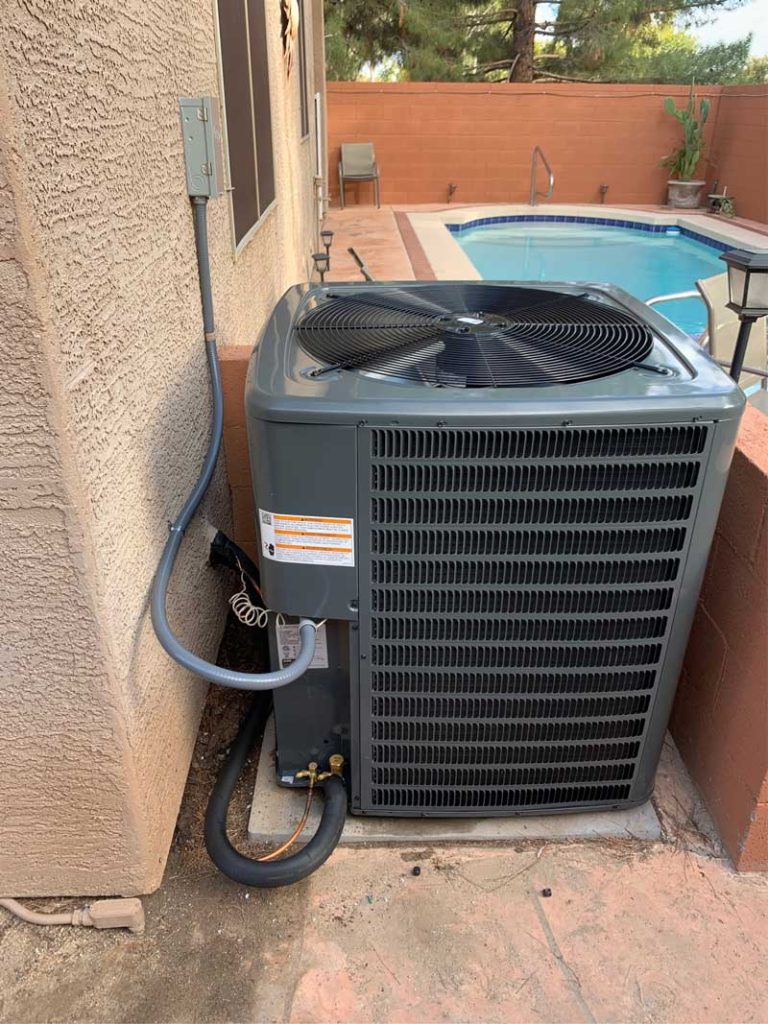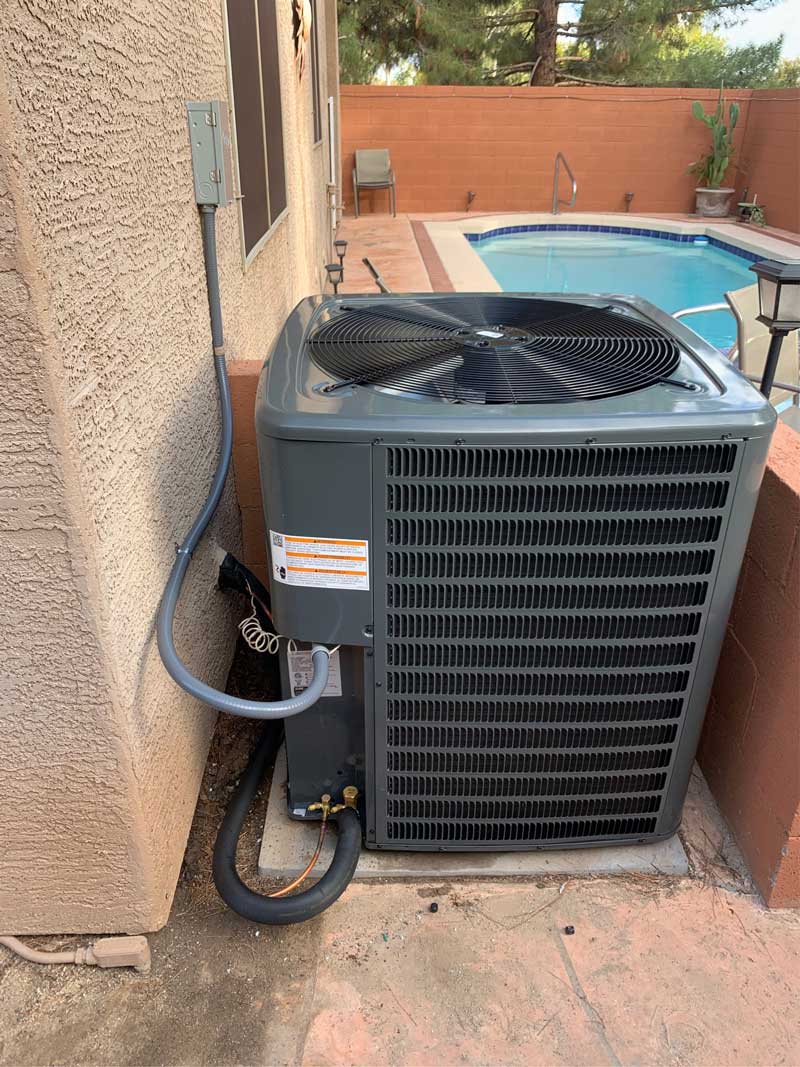 Air Duct Cleaning in Anthem, AZ
Ducted systems like central air conditioning, heat pumps, or furnaces use air ducts to transport desired air to each room. The air filters in each system can collect dust, pollen, and other allergens so they don't hinder the unit. 
However, if they slip through and sit in your vents, while it may not affect the appliance—it can affect you. Without thorough and consistent ductwork cleanings, you could expose yourself, your family, or your guests to potentially dangerous contaminants.
BACTERIA
Bacteria can make a home in dirty air ducts, especially if you have duct leaks you don't know about. When we clean your ductwork, we use disinfectants and anti-bacterial solutions to kill contaminants on sight. We can also check for any leaks that could potentially lead to bacterial growth.
MOLD AND MILDEW
The leaks and moisture that allow bacteria to grow can also cause the perfect conditions for mold and mildew development. The air passing through then blows the spores into your rooms. Ordinary cleaners can't get eliminate these substances and could harm your HVAC system, so you can leave it to us.
HAIR AND FUR
Your visitors and family, especially pets, shed cells just by moving around as a natural self-cleaning mechanism. However, you could start experiencing allergies or breathing problems if it gathers in your air ducts. We use specialized vacuums to catch all accumulated hair and fur for easy breathing.
Call 1st Choice Mechanical for Quality HVAC in Anthem
At 1st Choice Mechanical Cooling and Heating, we pride ourselves on efficient and effective services for HVAC in Anthem, AZ. We offer financing options to help with costs and give special benefits to our Comfort Club members. Call (623) 887-1078 for a free estimate on your air conditioning installation today.