AC Repair In Litchfield Park, AZ
AC Repair In Litchfield Park, AZ, And Surrounding Areas
A malfunctioning air conditioning system can quickly turn your home or business into an uncomfortable space. As the sun beats down relentlessly, you need a reliable and efficient air conditioning repair service that can bring back the cool, refreshing air you crave. Look no further than 1st Choice Mechanical, the premier provider of AC repair in Litchfield Park, AZ, and beyond. With our deep knowledge of the HVAC industry and commitment to customer satisfaction, we are your go-to experts for all your AC repair needs.
Simply fill out the form below and a member of our team will respond to you as soon as possible.
Why Are Timely AC Repairs Essential For Your Comfort And Energy Savings?
When your air conditioning system starts exhibiting signs of trouble, such as inadequate cooling, unusual sounds, or poor airflow, it's crucial to address the issues promptly. Delaying repairs can lead to more significant problems down the line, compromising your comfort and draining your energy savings. By addressing AC issues promptly, you can avoid the following problems:
Reduced Efficiency
An air conditioner that is not functioning optimally will struggle to cool your space effectively. This means you'll have to run it longer and harder, resulting in increased energy consumption and higher costs.
Poor Indoor Air Quality
Neglected AC units can accumulate dust, dirt, and other contaminants, which are then circulated throughout your home or office. This can lead to respiratory problems and allergies, compromising the health and well-being of your loved ones or employees.
Costly Breakdowns
Small AC problems left unattended can escalate into major breakdowns, resulting in more extensive repairs or even the need for a complete system replacement. Timely repairs help prevent these costly emergencies.
By investing in regular AC maintenance and addressing repairs promptly, you can ensure your comfort while maximizing energy efficiency and minimizing expenses. At 1st Choice Mechanical, we understand the importance of a well-functioning air conditioning system, and we are here to help you achieve it. Our team of seasoned professionals is dedicated to restoring your comfort and helping you save on energy costs. With our swift response and efficient repair services, we ensure that your AC system operates optimally, providing you with cool and refreshing air throughout the hot Arizona summers.
1st Choice Mechanical: Your Go-To Experts For AC Repairs
When it comes to AC repairs, you deserve nothing but the best. 1st Choice Mechanical takes pride in being the top choice for homeowners and business owners in Litchfield Park, AZ, and the surrounding areas. With our extensive knowledge of the HVAC industry and our commitment to exceptional service, we are the experts you can rely on.
Whether it's a minor repair or a complex system issue, we have the expertise to handle it all. From diagnosing the problem to implementing the necessary repairs, we take care of every step, leaving no stone unturned. Our comprehensive approach ensures that your AC system is restored to its optimal performance.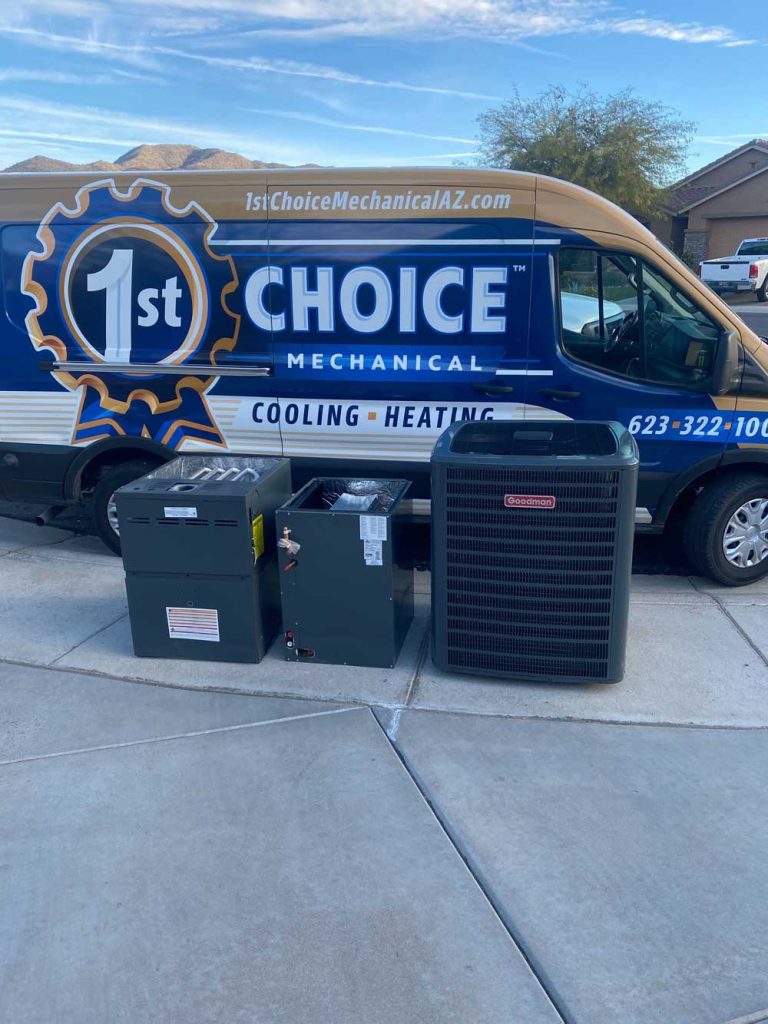 Our Experienced Team Delivers Fast and Effective Results
At 1st Choice Mechanical, we understand the frustration and inconvenience that comes with a malfunctioning AC system. That's why our experienced team of HVAC technicians is dedicated to delivering fast and effective results. We pride ourselves on our ability to diagnose and resolve AC issues efficiently, ensuring minimal disruption to your daily life. During our AC repair service, you can expect:
Thorough Inspections
Our technicians conduct detailed inspections to identify the root cause of the AC problem. This allows us to provide accurate diagnoses and targeted solutions that address the issue effectively.
Skilled Repairs
Armed with expertise and the latest tools and equipment, our technicians perform skilled repairs that restore your AC system to its optimal condition. We prioritize quality workmanship to ensure long-lasting results.
Transparent Communication
We believe in building trust with our customers through open and transparent communication. Our team will explain the repairs needed, provide a clear breakdown of the costs involved, and answer any questions you may have.
With years of experience in the HVAC industry, our technicians have encountered and resolved a wide range of AC problems. From minor repairs to complex system overhauls, we have the expertise and skills to handle any AC issue you may be facing. Our team stays up to date with the latest advancements in HVAC technology, allowing us to provide you with the most innovative solutions for your comfort needs.
Ready to Restore Your Comfort? Book Your AC Repair with 1st Choice Mechanical Today!
When your AC system fails you, 1st Choice Mechanical is here to restore your comfort and peace of mind. Our dedicated team, professional expertise, and commitment to customer satisfaction set us apart as the leading AC repair in Litchfield Park, AZ, and the surrounding areas.
Don't wait another moment. Take the first step toward restoring your comfort by booking your AC repair with 1st Choice Mechanical today. Contact us now to schedule your appointment.